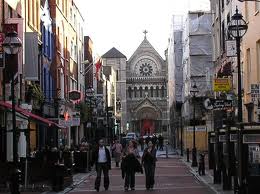 Host: Damien.
The first contest in Dublin
Edit
The contest in Dublin was the very first contest ever hosted in the current format. Damien. is the founder of the contest and thus hosted. Damien. also chose the location of the contest. The rules of this contest stated that no Eurovision contestants could join, which resulted in several disqualifications of Belgium before an eligable entry was found.
Results: Sunday 27 February 2011
Semi-Final 1
Edit
Semi Final 2
Edit
12 points
Edit
Below is a summary of the maximum 12 points each player awarded to another in the final:
NUMBER
COUNTRY
GIVING 12 POINTS
7
 Georgia
Chisato Geeste (x2), Peter30 (x2), basdfg (x2), dondfan998
6
 Czech Republic
thms (x2), pauledin99 (x2), sbrum1984, Saturn
4
 Denmark
Drew Peacock (x2), globbits (x2)
3
 Russia
Pdm1987, sbrum1984, 21stCenturyBoy
 Estonia
Claire 87, Saturn, BigBmad
 Latvia
AxG (x2), Claire 87
2
 Iceland
21stCenturyBoy, Diorhomeboy
 Germany
Saturn, Diorhomeboy
 Israel
Diorhomeboy, steeleuro_wolf
 Cyprus
cnbcwatcher, sbrum1984
 Hungary
Only_You (x2)
 Armenia
contejas (x2)
 Macedonia
Nicky2Win87 (x2)
1
 Turkey
Pdm1987
 Belgium
BigBmad
 Portugal
dondfan998
 United Kingdom
steeleuro_wolf
Player Information
Edit
Community content is available under
CC-BY-SA
unless otherwise noted.